April 13, 2020 | Throughout 2019 and continuing into 2020, the Conservation Legacy Communications Team has been analyzing our brand, visual identity, messaging and communication strategies. It has taken the effort of our entire staff to pull together a comprehensive body of research, culminating with our 2020-2022 Strategic Plan. With that, we have refreshed our Conservation Legacy logo and program visual identities.
A critical advantage we have as an established organization is a national brand and reputation coupled with deeply rooted and impactful local programs. Through much of our research, it has become clear that Conservation Legacy IS local; that our national identity exists because of and for our local programs—it is critical to continue to support and amplify that work.
Conservation Legacy and program visual identities have been refreshed and updated to better reflect us as an organization. The new logos are versatile in shape, allowing for connection through uniformity while still remaining unique to programs and places. The visuals are clean, bold, passionate and reflect innovation. Conservation Legacy has also adopted a federated model through much research, evaluation and insight, supported by our 2020-2022 Strategic Plan. We mirror our internal restructuring with the implementation of an endorsed brand architecture.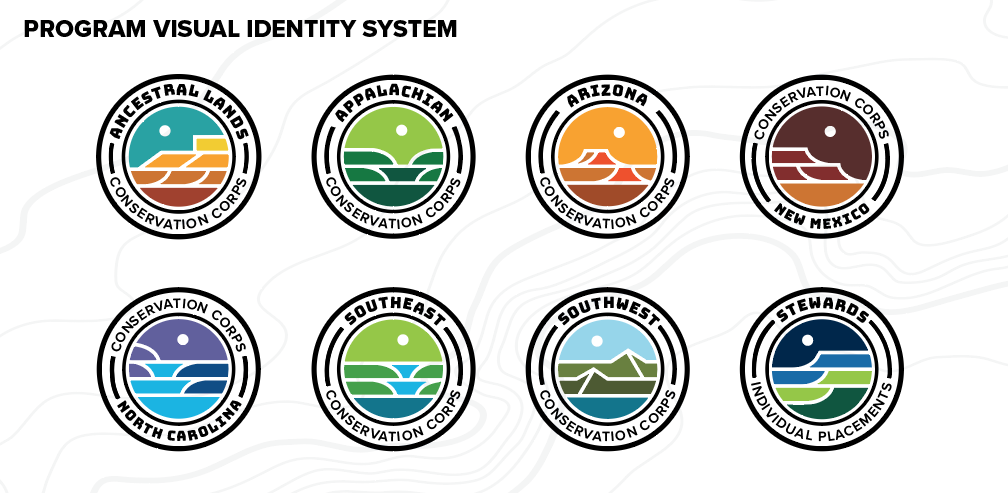 We understand that our world is currently enduring an unprecedented hardship that is affecting people everywhere in so many ways, including our participants, staff and partners. We had planned to launch our new branding with celebration; however we know there are far greater things to put our energy into right now. Each of our programs will now begin using their new visual identity, with the idea that we will gradually phase out old graphics in order to minimize waste and save resources.

We are not changing who we are or what we do, but rather doubling down and going deeper in reaffirming our commitment to the well-being and resiliency of our communities and the environment. We're here; looking towards the path ahead together with empathy, dedication and grit. We may be pausing for a moment, but plan to come back with boots on the ground as soon as we can, more motivated than ever to get things done in the name of conservation and service.