Four Corners Region Youth Crews
(No resume, cover letter, or references needed in application)
Middle School Service-Learning Crews
Where: Cortez, CO & Durango, CO

What: 2-week Service-Learning Crew (SLC) for 11–13-year-olds in Montezuma County, CO and La Plata County. The SLC connects youth to their communities through meaningful outdoor-based service projects, education, and group recreation activities. Participants volunteer their time on a crew led by 2 crew leaders.
When:
Montezuma County: June 5th - June 15th OR June 19th - June 29th
La Plata County: July 10th - July 20th OR July 24th - August 3rd
Benefits: Program provided FREE-OF-COST. Transportation from meeting location to Project site, Lunch and snacks provided, SCC T-Shirt
Requirements: Students must commit to a two-week session. Paperwork and volunteer forms must be completed prior to program start. Preference given to residents of Montezuma County, CO and La Plata County, CO.
Montezuma County Residents: FOLLOW THIS LINK TO APPLY!
La Plata County Residents: FOLLOW THIS LINK TO APPLY!
High School Conservation Crews
FOLLOW THE LINK FOR THE 2023 APPLICATION!
Still deciding? Keep on reading to learn more information!
Serving Youth from La Plata, Montezuma, Archuleta, San Juan, Dolores, and Northern New Mexico Counties
Four Corners youth crews participate in meaningful project work in their local counties. Crews consist of 6-8 members, ages 14-18, with 2 experienced adult crew leaders. Youth Crew members are paid $13.65/hour for 32-36 hrs/week.
As a crew, they participate in invasive species removal, tree planting, small scale agriculture, painting, fence building, trail maintenance and construction, habitat improvement projects, and community clean ups.
Along with completing impactful project work, our program focuses on youth development. Lessons on leadership, team building, communication, environmental stewardship, and a wide array of topics dependent on crew interest are incorporated into the workday.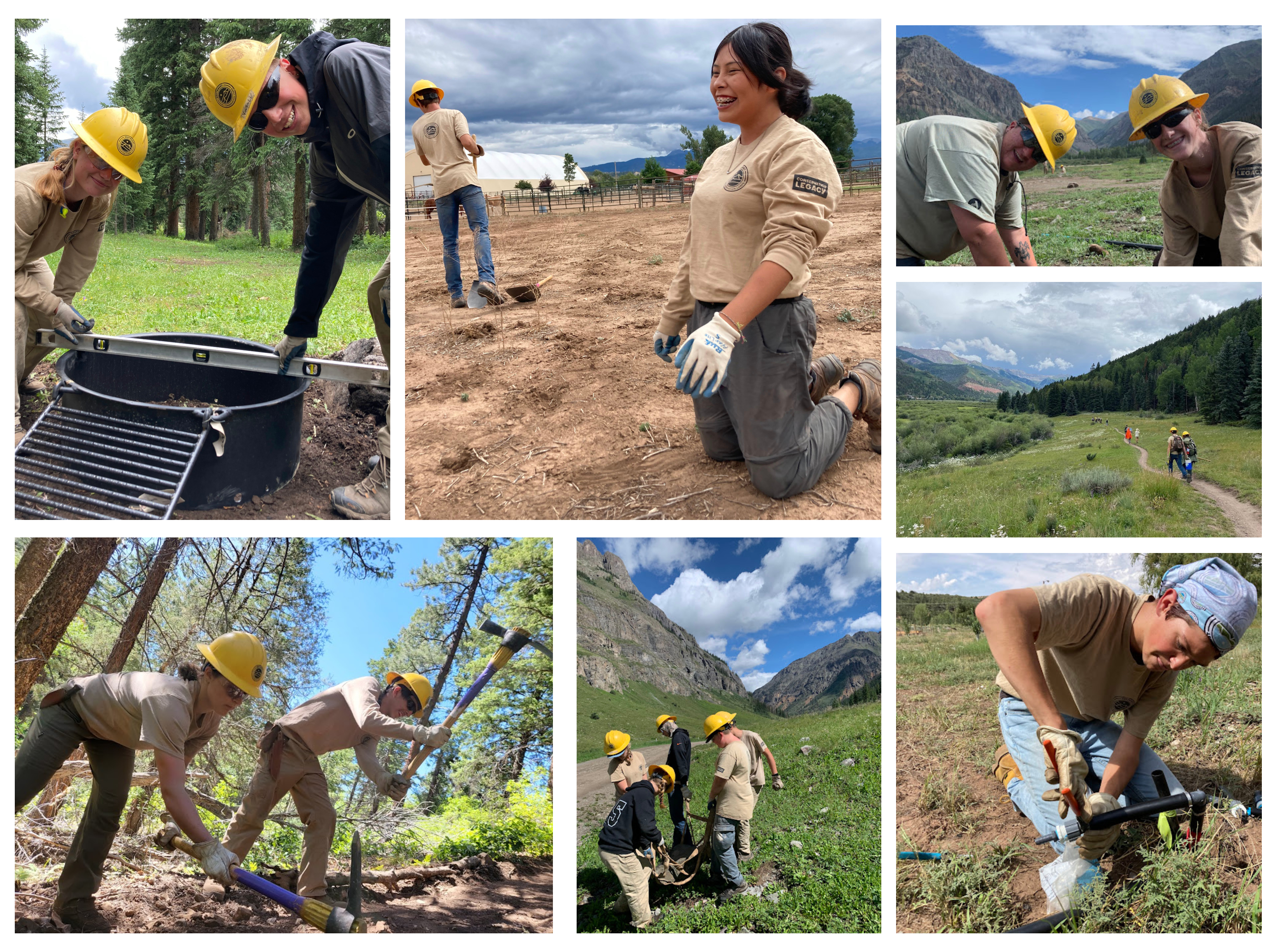 Four Corners Youth Crew Schedules
Camping crews work Monday through Friday for 4 weeks, day crews work Monday through Thursday for 4 weeks. Project work is completed Mon-Thurs. Friday is an education day for camping crews.
Youth living in Montezuma County and Dolores County will meet for work in Cortez CO. Youth living in La Plata, Archuleta, San Juan, and Northern New Mexico Counties will meet for work at the Old Fort at Hesperus, in Hesperus CO (location may vary for Day Crew members).
| First Session | Second Session |
| --- | --- |
| Day Crew: June 5th- June 29th | Day Crew: July 10th- August 3rd |
| Camping Crew: June 4th- June 30th | Camping Crew: July 9th- August 4th |
• Day Crew- Will meet at a pre-determined location in your region, SCC will help accommodate participants that need transportation. Typical workdays run from 8:00 AM- 4:30 PM Monday-Thursday, with the crew member being dropped off at the pre-determined location at 4:30 PM each workday. Day crews return home every evening and do not camp.
• Camping Crew- Camping crews will meet Monday at 8 AM (except the first week of session, when you will meet on Sunday), and you and your crew will load up in a van and travel to your work site for the week. Camping crews spend Monday-Friday working from 8:00-4:30 PM and are expected to participate after the workday in camp chores, evening education lessons, and daily meals for the crew. Crews will spend part of Friday on an educational lesson and the rest of the day cleaning up their gear from the work week. Pick up will be Friday afternoon at a pre-determined drop-off location & time. All food and cooking gear is provided during the work week. Camping gear can be provided if needed.
Questions can be directed to Jacob Mandell, Youth Programs Coordinator in Durango, at jmandell@conservationlegacy.org
Year two of the youth advisory council!

Five alumni from the 2022 summer season have been meeting twice a month since September 2022 to have their voices heard in crafting the future of SCC's youth programs. Look for opportunities to join the YAC after our 2023 summer field season.

2021 Member Reflections

"This job is hard, but it's easy to see how impactful the work we do is. My favorite part of this job has been meeting new people, from different places, we have people on the crew from Farmington, Silverton, Ignacio and Durango. Starting out camping together, doing this hard work together, creates friendships." -Santiago, La Plata County

Read more reflections on our Facebook post

Mental Health Consultant Pilot

During the 2021 field season SCC's Youth Programs piloted a Mental Health Consultant to work with our youth crew members and leaders. Bringing on a professional Mental Health Consultant created a more inclusive youth program experience by supporting the emotional needs of our participants and leaders. We are excited to have our Mental Health Consultant supporting us throughout the 2022 season!