Fourteener Conservation Crews
Are you up for the challenge?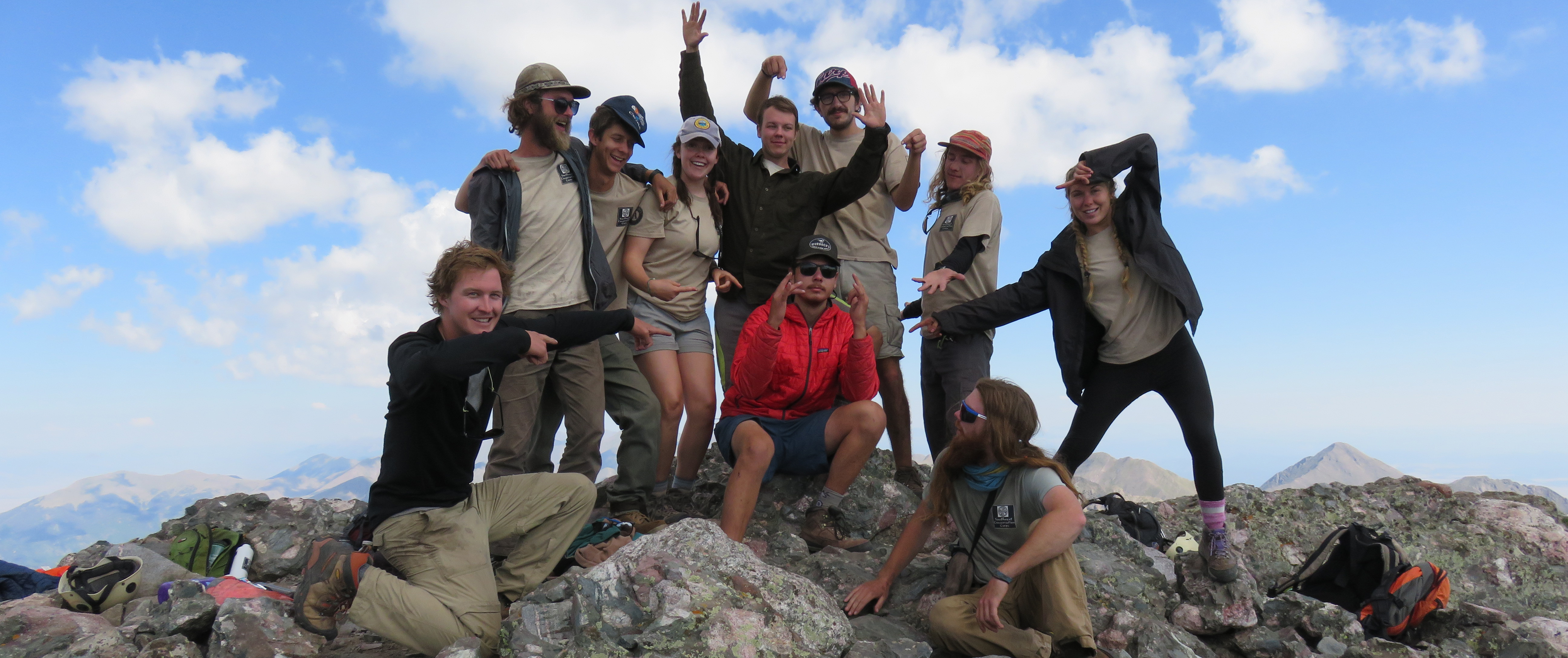 Colorado is know for its soaring peaks, and none are more famous than those that rise over 14,000 feet in elevation, often referred to as 'Fourteeners'. As a participant of one of Southwest Conservation Corps' Fourteener crews, your office will be the high alpine environment on the slopes of one of these peaks. 
Your crew will consist of six to seven members and two leaders, based out of Salida, Colorado. For most of the summer months your crew will be camped out in high alpine backcountry locations. Crew members should be prepared for the cold and harsh weather conditions that accompany high alpine work, even during the height of the summer. You will work effectively as a member of the crew, performing heavy manual labor such as trail construction and technical dry stone masonry, to aid in the protection of the delicate alpine ecosystem.
Our Fourteener Conservation Crews are handed the most physically demanding work, but are rewarded with some of the most memorable summers. These crews are part of our Adult Conservation Crew program.
Dispatch from Columbia Peak
"Driving out of Salida towards the Collegiate Peaks Wilderness near Buena Vista, we gained over 4,000 feet in elevation, as views of pinion and juniper hills covered in cactus turned to sunset mountain vista. Our basecamp is at subalpine level, where an ecosystem of subalpine firs and Engelmann spruces flourish amidst huckleberry bushes and creaks running beneath talus. The space between where we eat breakfast at 4:30 am and where we arrive at our worksite is the transition zone; sparse islands of trees look as though they have been frozen in windy time—"crooked wood" to adapt to the twisted conditions of the alpine. Adaptation is the language of the alpine tundra—for our crew and the life that sneaks its way amongst the rocks that we build trails through."
Our Partners

The Colorado Fourteeners Initiative is a non-profit organization whose mission is to protect and preserve the natural integrity of Colorado's fourteen thousand foot peaks through active stewardship and public education.

Our Partners

The Rocky Mountain Field Institute is a nonprofit 501(c)(3) organization based in Colorado Springs, Colorado, dedicated to the conservation and stewardship of public lands in Southern Colorado. RMFI is committed to protecting and enhancing the ecological health of our land and water resources by completing projects focused on watershed restoration, forest health, and creating sustainable outdoor recreation opportunities.