Forest Health Partnerships
The Forest Health Partnerships team is growing - we are adding a Field Supervisor for the 2022 season!
View the full position description and application instructions HERE!
Southwest Conservation Corps is excited to announce our new Forest Health Partnerships Program with My Southwest Forest!
The Southwest Conservation Corps (SCC) has officially joined the My Southwest Forest partnership, which is dedicated to assisting private forest landowners across southwestern Colorado in taking action to reduce fire risk and restore forest health on their properties. Through the partnership, SCC will provide free forester consultations and management plans to private forest landowners with 20+ acres in the east Durango community.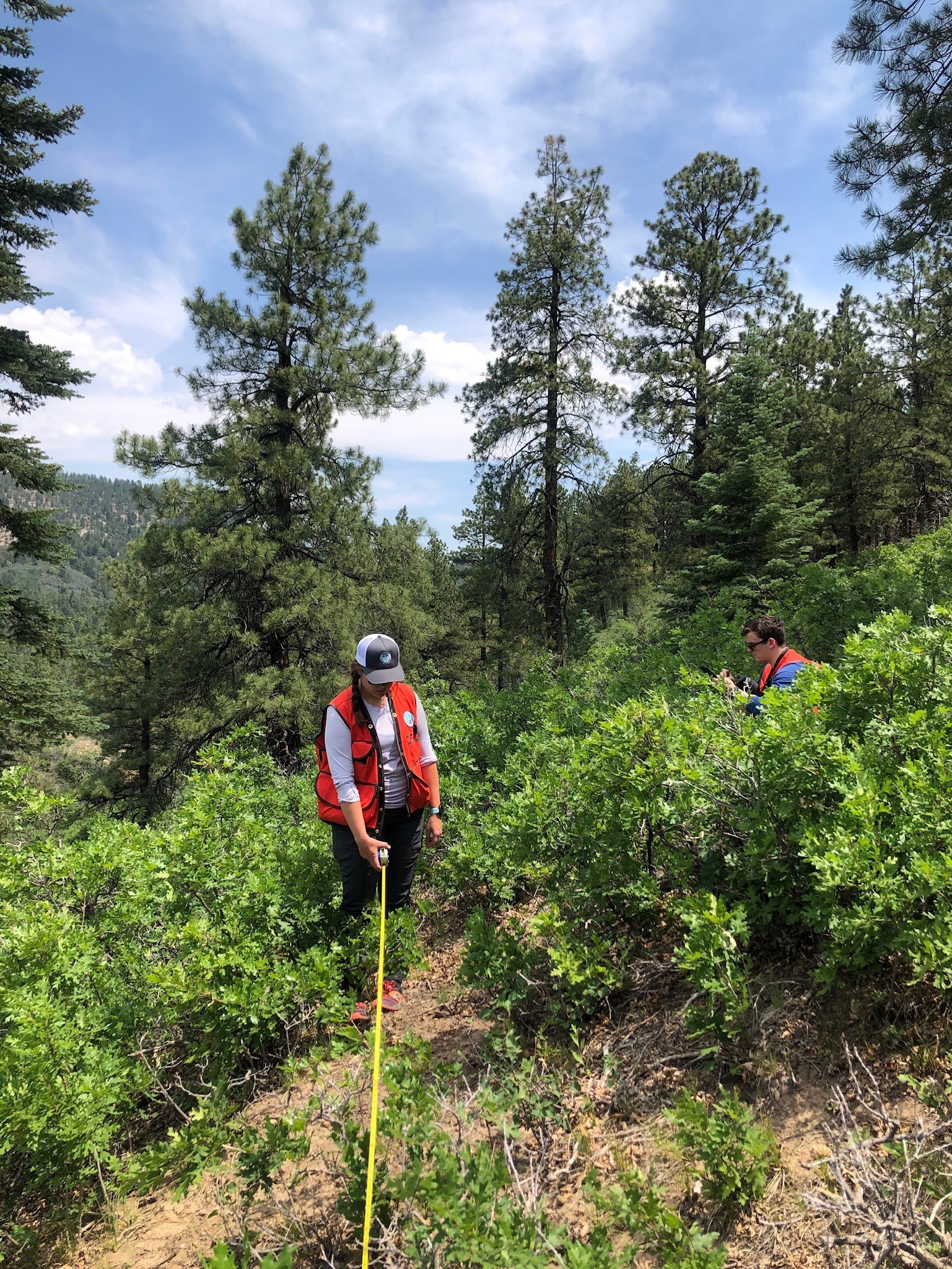 In addition to providing technical assistance to private forest landowners, SCC will pilot a workforce development initiative for the partnership. The initiative, which officially launched in spring 2021, will focus on training and mentoring forest technicians through a six-month apprenticeship with the goal of building accessible pathways that connect young people with careers in forestry and conservation.
Through the initiative, SCC's forest technicians will gain hard skills and on-the-ground experience in conducting forest health inventories, writing forest management plans, and engaging with a wide array of stakeholders including private forest landowners, local forest health collaboratives, forest operators, wood product innovators, watershed managers, wildlife ecologists, and local public figures.
My Southwest Forest is partnership between the American Forest Foundation (AFF), Colorado State Forest Service (CSFS), National Resources Conservation Service (NRCS) and SCC.
For more information about this partnership and to see if YOUR land qualifies, visit https://mysouthwestforest.org/

The My Southwest Forest workforce development initiative has been designed to support a larger statewide effort, called the Rocky Mountain Restoration Initiative (RMRI), which in 2019 unanimously selected Southwest Colorado as the first place to focus collective forest restoration and fire risk reduction efforts. The RMRI has identified workforce development as a critical need to achieve their 10-year plan to restore 300,000 acres of high-risk forestland to create ecologically resilient landscapes that allow local communities to live safely with wildfire.
SCC and the My Southwest Forest partnership are eager to be part of the RMRI workforce capacity solution, and look forward to the results and learnings of this this initial pilot class of apprentices.
Meet the Team!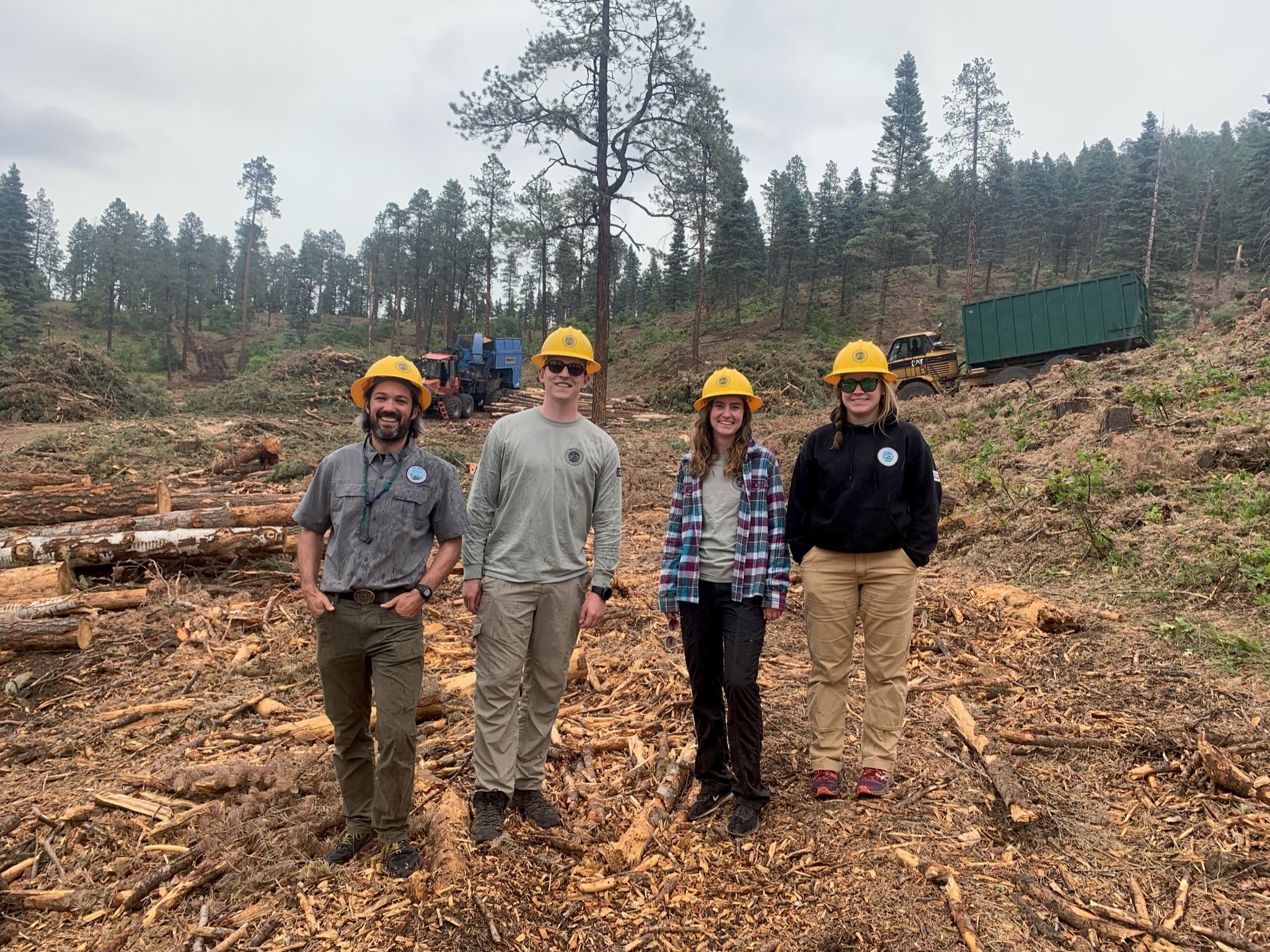 From left to right, Nick Olson, Matt Dehr, Daria Walsh, and Elizabeth Streeter.

Nick Olson
Nick (he/him/his) is the Forest Health Partnerships Program Manager. He is a full-time member of the Southwest Conservation Corps - Four Corners staff. You can read his full bio on our staff page.
Matt Dehr

Matt joined the SCC Forest Health Partnership in 2021 through the Department of Defense Skillbridge program, an initiative that allows armed forces members to participate in an internship during their last 6 months of active duty. Prior to joining SCC, Matt studied Meteorology at the University of Oklahoma, and was a Weather and Environmental Sciences Officer in the US Air Force, achieving the rank of Captain. During his 5 years of service, he managed teams of weather forecasters safeguarding missions across the globe, including a 2-year stint with special operations forces in Okinawa, Japan. Matt is currently pursuing a Master's in Emergency and Disaster Management at Georgetown University, and hopes to leverage the experience he gains with SCC to stay in the region long term as either a fire/wildland meteorologist or emergency management specialist. When not working, you can find Matt forecasting weather for his friends or in search of the best snow in the region.

Daria Walsh

Daria (she/her/hers) joined SCC in May 2021 with the Forest Health Partnerships Program. She grew up in Boulder, Colorado and graduated with a BS in Ecosystem Science and Sustainability from Colorado State University in May 2020. During her time at CSU, Daria had the opportunity to work with field research teams in the Rocky Mountains, Yellowstone National Park, and New Zealand. When she's not measuring trees, Daria enjoys exploring Durango and spending time outside with her friends.
Where Are Our Alumni Now?
One of the goals of this Forest Health Partnerships Program is to develop a career pathway program for foresters and forest professionals. Our hope is that after each of our team members leaves SCC, they can take the new skills they have learned into a lifelong career in forestry or something related. Read on to see where our alumni have gone!
Elizabeth Streeter

Class of 2021
Airborne Imaging Specialist, Hood River, Oregon

Elizabeth (she/her/hers) joined SCC in May 2021 with the Forest Health Partnerships Program. A few months into her time with the SCC, Elizabeth scored her dream job as an Airborne Imaging Specialist based in Hood River, Oregon. In this position, Elizabeth will be operating remote sensing systems from small aircraft to detect and map wildland fires across the West. Elizabeth was born and raised in Colorado. She graduated from Colorado State University in Fort Collins with a BS in Ecology with a focus in Hydrology. Since graduating, Elizabeth has worked for the US Forest Service in various locations and capacities across the West as a hydrologic technician, wildland firefighter and helicopter rappeller. Elizabeth spends her free time on the trails with her dog, Murphy.
Forest Health Partnerships Program Contact
Nick Olson, Program Manager
nolson@conservationlegacy.org